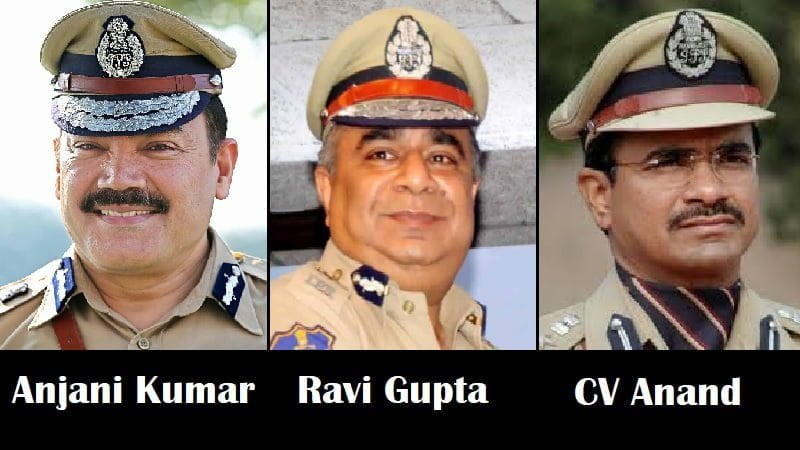 Telangana's top police echelons are abuzz about who will succeed M Mahender Reddy (IPS:1986:TG) as Director General of Police (DGP)? Reddy is set to retire on 31 December 2022. In the race for the top police position, Anjani Kumar, Ravi Gupta, and CV Anand are among the front-runners.
Also Read: IB and CBI chiefs to get salaries at par with Secretary-rank IAS officers irrespective of seniority
Reliable sources said, that the government is most likely to send the names of five senior IPS officials to the Union Public Service Commission for the new state police chief.
They are;
Omesh Sharaf (IPS:1989:TG)
Anjani Kumar (IPS:1990:TG)
Ravi Gupta (IPS:1990:TG)
CV Anand (IPS:1991:TG)
Rajiv Ratan (IPS:1991:TG)
Omesh Sharaf who is the current Director General of the Special Protection Group (SPG) is retiring from the services in July next year, so his name is not likely to be considered by UPSC. After Umesh Sharaf, two 1990 batch officers — ACB Director General Anjani Kumar and Principal Secretary of Home Department Ravi Gupta are in line. Hyderabad City Police Commissioner CV Anand (IPS: 1991:TG) and Rajiv Ratan (IPS:1991:TG) are in Additional Director General (ADG) rank. Both these officers are likely to get DG rank promotion in December itself.
Also Read : Political instability forces Maharashtra IPS officers to seek central deputation
Taking all these into consideration, the State government is likely to send the names of Umesh Sharaf, Ravi Gupta, Anjani Kumar, Rajiv Rathan, and CV Anand to the UPSC soon. The race is likely to be between Anjani Kumar and CV Anand, who are said to be on good terms with the powers that be. Ravi Gupta, however, cannot be ruled out.