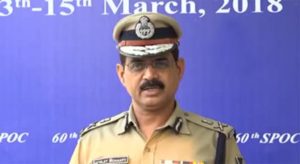 In a major reshuffle in senior police cadres, the Odisha government on Saturday appointed Satyajit Mohanty as the new commissioner of Cuttack-Bhubaneswar Police Commissionerate.
A 1988 batch- IPS officer, Mohanty, who is now serving as the Additional DGP (Provisioning) will now replace YB Khurania as the new police commissioner of Twin City.
Outgoing commissioner, Khurania, a 1990-batch IPS officer, has been appointed Additional DGP (Provisioning).
Similarly, 1994-batch IPS officer Sanjeeb Panda, who is currently serving as IG of Police, Special Armed Police (SAP), has been posted as Transport Commissioner.
As many as four Superintendants of Police (SP) have been transferred. SP, CID, Crime Branch Pandit Rajesh Uttamrao has been transferred and posted as Bhadrak SP while Battula Gangadhar, a 2011-batch IPS and present SP of Bhadrak has been appointed Kalahandi SP.
Madkar Sandeep Sampat, a 2012-batch IPS and SP Kalahandi has been appointed as the new SP, CID, Crime Branch.
Furthermore, Debi Prasad Dash, Additional SP of Bonai, Rourkela has been transferred and posted as Sonepur SP while
Additional DCP (Commissionerate Police-Bhubaneswar) Sashi Bhusan Satapathy has been posted as the new SP in-charge of Nayagarh dstrict.