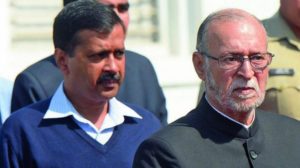 Delhi LG Anil Baijal on Tuesday transferred three IAS officers, drawing criticism from the ruling Aam Aadmi Party government.
According to new order, Soumya Gupta has been tranferred from the post of director, education department. Gupta has been replaced by Sanjay Goyal. Similarly, Chanchal Yadav, presently posted as Deputy Commissioner, South DMC, has been shifted as Special Secretary to Lieutenant Governor. Dr. Vasanthakumar N, has been made Special Commissioner (Trade and Taxes).
Deputy Chief Minister Manish Sisodia slammed the move as "bossing around" by the LG.
"LG has kept the services department with him arbitrarily and is bossing around. He should have consulted us before appointing the education director. Delhi government is spending 26 per cent of its budget on education and we are not even consulted on the issue," Sisodia told reporters.
On Monday, Chief Minister Arvind Kejriwal wrote to Baijal, accusing him of being selective in accepting the Supreme Court's judgement.The Delhi government is likely to move the Supreme Court to dispose of its appeals, including the one on the matter of services,at the earliest.