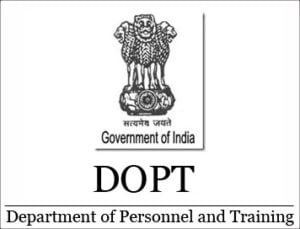 In a move bound to create flak from the Opposition, the government has opened up the entry of private sector professionals into the bureaucracy.
In a fresh advertisement issued by the Department of Personnel and Training (DoPT), it has invited applications for the post of Joint Secretary in 10 Ministries through lateral entry scheme. Any private sector professional with 15 years of work experience in specific areas like Revenue, Financial Services, Economic Affairs, Agriculture, Road Transport & Highways, Shipping, Environment & Forests, New & Renewable Energy, Civil Aviation and Commerce can apply. The age of the candidate should not be less than 40 years. Generally, senior bureaucrats are appointed as joint secretaries in several government departments.
About Joint Secretary post:
The Joint Secretary level posts are held by top civil servants who are inducted through a rigorous multi-level competitive exam conducted by the Union Public Service Commission (UPSC) and make their way up to senior position after years of experience in the government at lower levels.
A notification issued by the Department of Personnel and Training says that the government of India has decided to invite talented and motivated Indian nationals willing to contribute towards nation-building to join the government at the level of Joint Secretary.
Who can apply?
The government notification said that candidates with expertise in specific areas of revenue, financial services, economic affairs, agriculture, road transport and highways, shipping, environment and forests, new and renewable energy, civil aviation and commerce can apply for the posts. While candidates from state governments as well as central or state public sector undertakings will be appointed on deputation, the candidates from private sector will be appointed on contract basis, the notification said.
How to apply?
Applications are invited at lateral.nic.in, beginning from June 15. The last date for the submission of applications is 5pm, July 30, 2018. All applications must be made online. No physical applications will be entertained.
Who are eligible to apply?
* Officers of any State/UT Government who are already working at equivalent level or are eligible for appointment to equivalent level in their cadre, with relevant experience.
* Individuals working at comparable levels in Public, Sector Undertakings (PSUs), Autonomous Bodies, Statutory Organisations, Universities, Recognized Research Institutes with a minimum of 15 years experience.
* Individuals working at comparable levels in Private Sector Companies, Consultancy Organisations, International/Multinational Organisations with a minimum of 15 years experience.
Criteria:
Age: Minimum of 40 years as on July 1, 2018.
Qualifications: Graduate from a recognized University/Institute. Higher qualifications would be an added advantage.
Duration of contract: Three years from the date of commencement, extendable up to 5 years on the basis of performance..
Salary/Compensation: Rs.144200-218200 per month (Level 14 of Pay Matrix) and allowances, facilities applicable to an equivalent level in Government of India.
Selection Process: Shortlisted candidates will be called for a personal interaction with the Selection Committee.
Political row erupts
Reacting to the move by union government, Congress suspects foul play and termed it to sabotage the efficiently-running system to accommodate people from the Rashtriya Swayamsevak Sangh (RSS), Bharatiya Janata Party (BJP) and some industrial houses.
While Communist Party of India-Marxist (CPI-M) questioned the Modi government's real intentions behind the move and said that why are time-tested UPSC and SSC being sought to be undermined?
Some retired burocrats are of the view that there was a time-tested efficient system of recruitment of IAS and officers in other services which was foolproof, and that the recruits were brilliant minds who are given training keeping in mind the government's requirements.
Meanwhile, NITI Aayog Chief Executive Officer (CEO) Amitabh Kant, an IAS officer himself, welcomed the move, saying NITI's experience with lateral entry has been extremely good. The candidates bring in a vast number of fresh and vibrant ideas. He further said that this move in government was long overdue and it will catalyse UPSC entrants to specialise. He also opined that the government must also allow deputation of its officers to private sector as well.
Joint Secretaries are placed at a crucial level of senior management in the government and lead policy-making as well as implementation of various programmes and schemes of the department assigned to them. They report to the Secretary or the Additional Secretary in the respective Ministries.