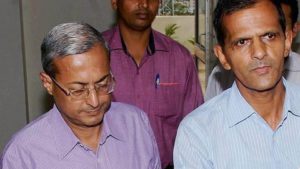 The Central Bureau of Investigation (CBI) on Tuesday filed a disproportionate assets (DA) case against Jharkhand's Principal Income Tax Commissioner Tapas Kumar Dutta for allegedly amassing wealth disproportionate to known sources of his income. According to the CBI, the IT officer has assets worth Rs 9.78 crore, which is 964% more than his known sources of income.
In its FIR, CBI has alleged that Dutta, while working as commissioner/principal commissioner, Income Tax Ranchi/Hazaribagh between 2012 and 2017, acquired assets – movable and immovable – to the tune of Rs 9,78,61,271 in his name and in the name of his family members, which are disproportionate to his known sources of income for which he cannot satisfactorily account for.
According to the CBI, Dutta belongs to an ordinary family background and his wife – Ruparna Dutta – is a housewife.
Dutta was even raided and arrested in July 2017 by CBI in a separate corruption case. He and other I-T officers were found to be taking huge bribe for favouring income tax assesses. After the raid, the CBI had recovered Rs 3.5 crore cash and 5 kg gold.