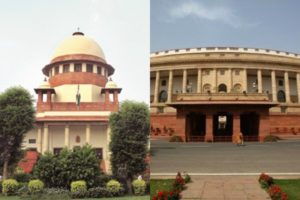 The Central government has returned the name of Justice Aniruddha Bose whose name was recommended by the Collegium for elevation as Chief Justice of Delhi High Court. After keeping the file pending for over five months, the government told the collegium to reconsider its decision.
The reason given by the Centre for rejecting the collegium recommendation is that the 59 year old Justice Bose, a judge in calcutta high court, does not command any experience as a Chief Justice to head a prominent High Court like Delhi.
The Supreme Court Collegium had recommended Bose J. for elevation to Delhi High Court on January 10. Besides Bose, the Collegium had on the same day recommended appointment of Chief Justices to nine other High courts.
While eight of those appointments have gone through, the candidature of Justice Bose and Justice Surya Kant have hit a roadblock. Meanwhile, the Delhi High Court has been functioning with an acting Chief Justice for more than a year now. Justice Gita Mittal has been at the helm of Delhi High Court since April 14, 2017.
The government had recently stalled the elevation of Uttarakhand High Court Chief Justice KM Joseph to the Supreme Court citing seniority and regional representation.