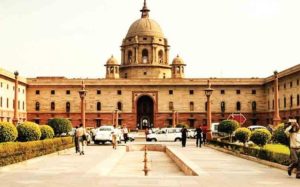 With lots of brow ha-ha and debate on the centre's move on inviting lateral entries at the level of joint secretary, the Prime Minister's Office has stated that the move had "no adverse effect on the morale of civil servants.
Citing the names of former Prime Minister Manmohan Singh, who was also a bureaucrat, and the then Deputy Chairman of Planning Commission Montek Singh Ahluwalia as being appointed through the lateral recruitment route, the government said there has been no adverse effect on the morale of the civil servants due to such appointments. Jitendra Singh, Minister of State (MoS), Prime Minister's Office (PMO) was replying to questions by Sajda Ahmed and Prasun Banerjee on reforms in bureaucracy. Jitendra Singh said the government has decided to undertake lateral recruitment of 10 Joint Secretaries on contract basis in order to achieve the twin objectives of bringing in fresh talent as well as augmenting the availability of manpower.
The others in the past who have been named by PMO are deputy chairman of the Planning Commission Montek Singh Ahluwalia, former adviser to the Ministry of Finance and erstwhile finance secretary Vijay Kelkar, former Reserve Bank of India (RBI) governor Bimal Jalan, chief economic adviser Shankar Acharya, deputy governor of RBI Rakesh Mohan, former economic adviser Arvind Virmani.
During the current Narendra Modi regime, those who were inducted through lateral entry include Arvind Panagariya who recently stepped down as vice-chairman of Niti Aayog, chief economic adviser Arvind Subramanian, special secretary in the Ministry of AYUSH Vaidya Rajesh Kotecha, Parameswaran Iyer, a retired IAS officer who returned from the United States to head India's cleanliness drive Swachch Bharat Mission, and Ram Vinay Shahi, served as the secretary to the Government of India in the power ministry.
Defending its move of lateral entry, the ministry stated NITI Aayog in its three year Action Agenda 2017-18 to 2019-20 has also highlighted that it is essential that specialists be inducted in to the system through lateral entry on fixed-term contract. It mentions Sectoral Group of Secretaries (SGoS) report of February, 2017 in which it was observed that there is a shortage of officers at the joint secretary/ director/ deputy secretary level, in 1995-2002.
In keeping with the principle of "reform, perform and transform", the government has taken several measures to reform bureaucracy including issue of provisional appointment orders (to those selected) on receipt of duly filled attestation form and self declaration by candidates pending police verification of character and antecedents, among others, Ministry said.