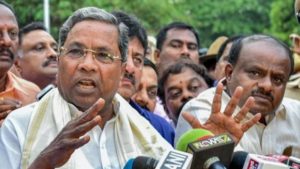 There seems no stopping of disputes between ruling coalition partners in Karnataka. This time transfer of an IAS officer has become a bone of contantion between Congress and JD(S).
Congressmen are so angry that they are planning to take up this issue with Coordination Committee Chairman and former CM Siddaramaiah. Last Week CM H.D. Kumaraswamy had transferred 8 IAS officers and posted Mr Kari Gowda, a senior KAS officer who got promoted to IAS, as DC of Bengaluru Rural district.This has angered a few Congress legislators of Bengaluru Rural District as they had requested the CM to appoint a certain officer as DC of Bengaluru Rural district.
Congressmen feel that by not consulting them before an IAS officer is transferred as deputy commissioner, Mr Kumaraswamy is not following the coalition dharma. What's the guarantee that an officer who owes allegiance to the CM will implement works suggested by local MLAs.
Sources admitted that the style of functioning of the bureaucracy has changed after the new government took over with officers showing more loyalty to JD(S) leaders. However, the Congress legislators are not in a position to air their grievances as it would be considered indiscipline and show-cause notices served on them. Besides, Mr Kumaraswamy's direct channel of communication with Congress President Rahul Gandhi has forced them to suffer in silence, sources added.