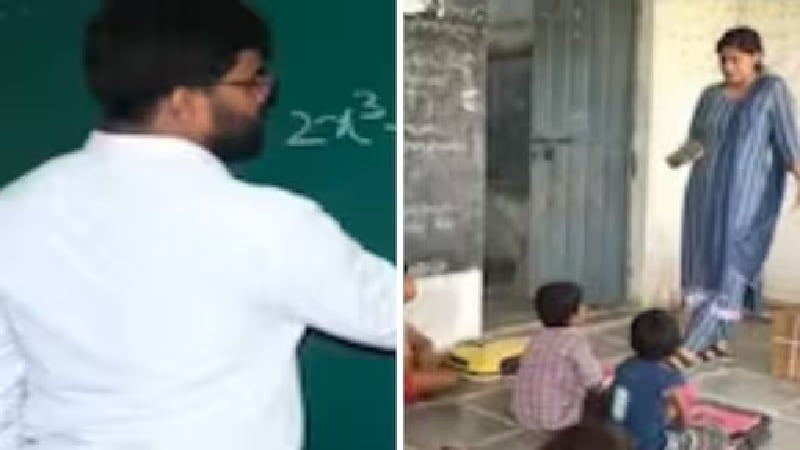 The pivotal role of IAS officers in district administration is well acknowledged. They oversee departmental progress, liaise with lower-level staff, and facilitate the execution of government welfare programs. This dynamic engagement ensures the achievement of set targets.
In an intriguing recent occurrence, two IAS officers embarked on a proactive journey, visiting schools within their respective jurisdictions in Adilabad district. Driven by a shared passion for education, these officials, Chahat Baj Pai and K Varun Reddy, embarked on these visits to delve into the teaching methodologies and student amenities in government schools.
Chahat Baj Pai, entrusted with the role of Project Officer for the Integrated Tribal Development Organisation in Utnur, Adilabad District, and her spouse, K Varun Reddy, who holds the position of Nirmal District Collector, undertook this educational exploration in tandem. Coincidentally, their routes converged as they conducted these school inspections, each driven by a fervent curiosity about the educational environment.
K Varun Reddy made his presence felt at the Social Welfare Gurukula College and School. Demonstrating an admirable commitment, he took charge of a mathematics class for tenth-grade students, sharing insightful tips for mastering the subject. The session, marked by student interaction and engagement, left a positive impact.
Simultaneously, Chahat Baj Pai embarked on an impromptu visit to the Tribal Girls Ashram schools in the village of Bejjur Mandal, Asifabad district, Telangana. Her approach was multifaceted, commencing with personal interactions with students followed by discussions with teachers regarding attendance, pass rates, and educational provisions. Taking a hands-on approach, she participated in classes, fostering a direct connection with the students. Ensuring comprehensive assessment, she meticulously examined storeroom inventory and records, even inquiring about the quality of meals served to the students.
Reflecting on this proactive initiative, Chahat Baj Pai emphasized the importance of specialized classes in tribal schools to bolster pass percentages. She highlighted the Integrated Tribal Development Agency's (ITDA) role in promoting higher education pursuits. With a forward-looking perspective, she offered guidance to maintain school and dormitory cleanliness during the rainy season, curbing the spread of seasonal ailments.
This inspirational undertaking by IAS officers Chahat Baj Pai and K Varun Reddy epitomizes their commitment to enhancing the educational landscape and fostering student well-being.