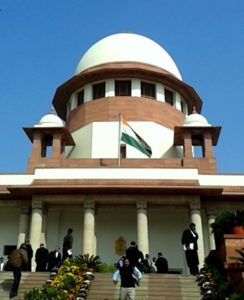 The Supreme Court would hear the Central governement's plea seeking modification of one of its 2006 directions recommending fixed two year tenure for the DGPs.
As a part of its 2006 verdict on police reforms, the apex court had directed that any person selected to be the DGP of the state police will have a fixed tenure of two years from the date of appointment irrespective of the age of superannuation. But the Centre' plea is that the tenure of the DGP be made subject to the date of superannuation.
Seeking modification of court's direction, Attorney General KK Venugopal said the direction that a state police chief must have a fixed tenure of two years irrespective of their date of superannuation was needed to be modified as the IAS officers, who are appointed as chief secretaries, may also seek similar relief. KK Venugopal also brought to light before the court that some states were violating the court's directions, either by making ad-hoc appointment to the post or by appointing IPS officers who continue to serve beyond their age of retirement at 60 years.
A bench of Chief Justice Dipak Misra and Justices A M Khanwilkar and D Y Chandrachud said it would hear other pleas, including those filed by former DGP Prakash Singh seeking contempt action against various states for alleged non-compliance of the 2006 verdict on police reforms.
The court posted the matter for hearing on April 4, as advocate Prashant Bhushan opposed the plea saying that the plea for review of the 2006 directions has already been rejected by the court and what was being sought was another attempt for the recall of the order.
He cited the Supreme Court's appointed Justice Thomas Committee to examine the implementation in 4 states, one each from the north, west, east and south regions, which had submitted a report to the effect that the directions are not being followed.
As he told the court that they have filed three petitions – in 2007, 2014 and 2015 – seeking initiation of contempt proceedings, Amicus Curiae Raju Ramachandran sugested to the bench that high courts be directed to constitute committees to monitor the implementation of 2006 directions on police reforms and could file their reports to the top court.