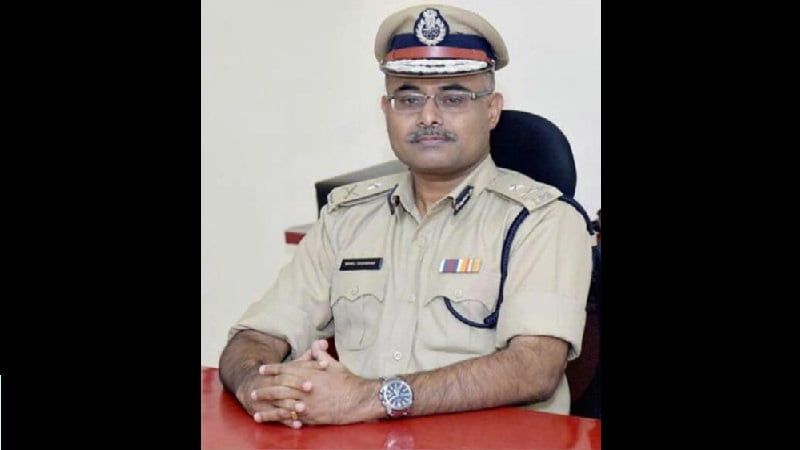 In the next series of LegendOfficers.com, we bring out how the Vadodara Police under Commisioner Manoj Sashidhar have made the difference in policing in the age of social media.
The Vadodara Police have acquired a reputation of being the most offbeat and creative police force on social media. Leveraging the reach of social media networks, the Vadodra Police have made its presence on Facebook, Twitter, Instagram a big parts of its public messaging and outreach campaign and has succeeded in attracting eyeballs nationwide in real-time. The 'punny' tweets have often been quirky and spot-on and most of these posts have gone viral on social media.
In the recent past the city Police launched a major drive for sperading awareness on various issues on social media. They came out with the innovative idea of utilising Bollywood scenes and dialogues to attract the youth. From Amitabh Bachchan's famous dialogue in Zanzeer, scenes of Raj Kapoor's Shree 420 to ' Dum Maro Dum' song of Dev Anand's movie to Ajay Devgan's 'Aata Maajhi Satakli' scene of Singham, the Vadodara Police have sent out social messages containing a blend of dialogues and uncanny graphics from the movies. These posters blend the message of cops being friendly and also invite people to join the force.
#PoliceGalatFehmi #VadodaraPolice#Biglilcity #Vadodara #Police pic.twitter.com/LJEO8CpB5n

— Vadodara City Police (@Vadcitypolice) March 28, 2018
#KnowYourLaws #VadodaraPolice#Biglilcity #Vadodara #Police pic.twitter.com/6GXTFFeffr

— Vadodara City Police (@Vadcitypolice) March 26, 2018
#PoliceGalatFehmi #VadodaraPolice#Biglilcity #Vadodara #Police pic.twitter.com/YtTuEM6msS

— Vadodara City Police (@Vadcitypolice) March 21, 2018
Channelise your emotions to be a force to reckon with!#JoinTheForce#VadodaraPolice#BigLilCity#Vadodara #Police#JoinThePolice @GujaratPolice pic.twitter.com/gKp828JiiD

— Vadodara City Police (@Vadcitypolice) February 24, 2018
These posters being uploaded on Vadodara Police's twitter handle, and Facebook and Instagram acounts are getting good response from the netizens and have become the talk of the town now. The city cops believe that these posts, which have an altogether refreshingly different humorous lingo have the capacity to strongly connect with new age citizens who are active on social media.
The city police's recent poster of using 'wink' fame Malyalam actress Priya Warrier to warn people for driving carefully had gone viral across the nation.
#TrafficEkSanskar #VadodaraPolice#Biglilcity #Vadodara #Police pic.twitter.com/UxrRDOhy2b

— Vadodara City Police (@Vadcitypolice) March 22, 2018
The social media which has often been blamed for the rise in crimes is now serving as a full-fledged tool for sending warning messages, for crime detection, and for tracking criminals and law breakers. This is what a 2013 CBI report on 'Social Media and Law Enforcement' had emphasized on the 'importance of leveraging social media platforms to maintain law and order.'
Taking a leaf from these facts and findings, the Vadodara Police have effectively made use of social media and taken the policing to the next level. And much of the credit for this goes to the ingenuity of Vadodara Police Commissioner Manoj Sashidhar.
Though his keen interest in social media using Bollywood themes and memes defy his no-nonsense cop image, he is a highly respected name in the Indian police fraternity.
The Commissioner was been credited with his deft handling of the delicate communal situation situation in Vadodara City-a city which has seen constant clashes and violence in the past but has remained very peaceful during the tenure of Manoj Sashidhar.
Sending across the message that there will be no complacency in Vadodara City Police's efforts in controlling the crime and public order in the city, he has initiated several measures to enhance the  effectiveness of his officers and men through innovative use of appropriate technologies. He has given Vadodara City Police the motto of Positive, Proactive and Progressive and these three words encapsulate his vision of people-friendly, professional police service. Sh. Manoj Sashidhar's distinguished 24 year-long career spans several different fields that includes deftly handling communal clashes and other critical public order situations, heading the state's Anti-Terrorism squad and ideating and executing unique concepts in police modernisation through his ingenuity and innovativeness.
Sh. Manoj Sashidhar is a 1994 batch IPS officer of the Gujarat cadre. Having a distinguished academic record, Manoj Sashidhar did his post graduation from Delhi School of Economics and was the Delhi University topper and Gold Medalist.
He has been Superintendent of Police of five districts Iike Jamnagar, Bhavnagar, Banaskantha etc in different parts of Gujarat. As DCP (Crime Branch) Ahmedabad City, he handled many sensitive cases from 2005-2008 and also headed the State Anti-Terrorism Squad.
He also served as Joint Commissioner of Police in Ahmedabad City and was incharge of critical areas of the city and he has also headed two Ranges – Rajkot Range comprising districts of Saurashtra and Gandhinagar Range comprising of districts in north Gujarat.
Having keen interest in police modernization, Manoj Shashidhar is a strong votary of the use of technology and has been instrumental in induction of many modern concepts, techniques and equipment in Gujarat police. He has spearheaded Control Room modernization projects, CCTV installation on city wide platforms, Ballistic protection testing, e-Challan for Traffic enforcement, induction of UAV's, tactical weapons, e-Governance solutions and so on.
Manoj Sashidhar has been posted as Commissioner of Police, Vadodara since October 2016.